Possessing a natural talent, Curtis is a singer/songwriter from a rural farming and ranching community of Irma, Alberta. His pure tenor voice, warm stage presence, and focused dedication, loyally draw audiences.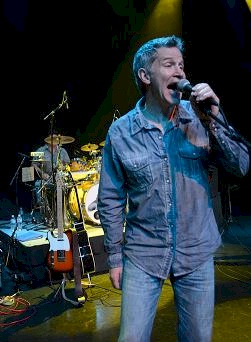 Curtis' hard work and discipline building a career as a singer/songwriter, parallels his early work on the family farm. Although Curtis now lives and works in Vancouver, his heart and soul are strongly rooted back home. Whenever he can, Curtis gets back to his roots and spends time putting in spring crops, harvesting in the fall, mending fences, tending livestock and "picking rocks"!

Currently lead singer in a band called Audio Zoo, first and foremost is his daily dedication to his music.

His first album was a collection of radio friendly songs, six of which Curtis co-wrote, including that award winning "Georgia Rain". It was a great learning experience and in Curtis' words, "I can recall the overwhelming emotions I felt after hearing one of my songs on the radio for the first time, I'll never forget that feeling"!

Curtis now has four videos on Canada's "CMT". They include, "Georgia Rain", "Midnight Angel", "A Tender Heart Is The Strongest Part Of A Man", and his current single, "Just In Time". "Still", says Curtis, I receive great satisfaction performing live. The feeling of support from my audience is the same feeling I get from my family".

The best way to describe Curtis' sound is to list those who have influenced him. He has been inspired by, Hank Williams, Marty Robbins, Willie Nelson, Roy Orbinson, Elvis, the Eagles, Darryl Hall and Sting of the Police.

Curtis has been to Nashville a number times on writing trips. The atmosphere and creative energy inspired Curtis to record "A Tender Heart Is The Strongest Part Of A Man" when he was down there last.

Curtis' range of talent also takes him to acting roles. Curtis did a two year run over the summers in the musical review "Red Rock Diner" at the Arts Club Theatre in Vancouver. Curtis sang and danced his way through 1957. Curtis has also appeared in "A Closer Walk With Roy Orbinson", the movie "Run" and the TV series "Neon Rider", "Glory Days" and "Secret Lives", among numerous other credits. Curtis recently performed in "Starry Night" at the Vogue Theatre in Vancouver, the "Huron Carole" at the Royal Theatre in Victoria and a songwriters in the round night at the Douglas Theatre in New Westminster. Curtis performed at the Battle of the Bullriders in Prince George and Kamloops and at the Pro Bull Riders in Vancouver in
Feb. '98.